This Prison Where I Live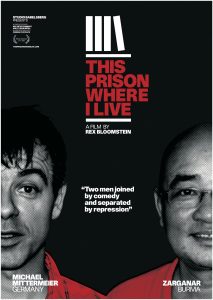 Rex Bloomstein's feature documentary, which campaigned for the release of Zarganar, Burma's leading comedian, who was jailed for 35 years by the military dictatorship in 2008.
Credit: Line Producer
Production company: Rex Entertainment / Yo Man Media (2010)
Film synopsis:
This is a film about two comedians.
Zarganar is Burma's greatest living comic. Relentlessly victimised by the military junta, in 2008 he was sentenced to 35 years in prison – silenced for his outspoken criticism of the ruling generals. Michael Mittermeier, in stark contrast, is free to practise as one of German's leading stand up comedians.
Two men joined by comedy and separated by repression.
The genesis of this film begins in 2007, when Zarganar agreed to be interviewed by documentary filmmaker, Rex Bloomstein, despite being banned from all forms of artistic activity and talking to foreign media. Over two days Bloomstein and his team interviewed Zarganar in depth in his flat, and were shown the cinemas that are prevented from screening his films, the bookstalls not allowed to sell his plays or poetry, and the makeshift TV studio where his fellow comedians rehearse on a stage that he is forbidden to tread.
Hearing of Zarganar's fate and seeing this footage, Michael Mittermeier joined with Rex Bloomstein to make a film about this courageous man, who has paid such a price for speaking out against the regime. Together with a small team, they travelled secretly to Burma in 2010 to document his struggle against repression and to investigate humour under dictatorship.
This Prison Where I Live is a feature documentary and is the story of Michael's exploration into the personality, the motivation and the talent of a man who describes himself as the 'loudspeaker' for his people.