Enemies of the People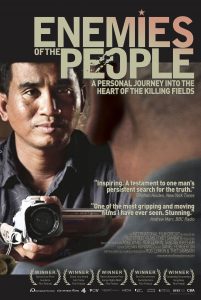 Produced by Old Street Films, Rob Lemkin and Thet Sambath's highly acclaimed feature length documentary presents previously unheard testimonies of those who perpetrated the Killing Fields massacres in Cambodia – from the foot-soldiers who slit throats to the Khmer Rouge's ideological leader, Nuon Chea (aka Brother Number Two).
This film screened at over 50 film festivals around the world, winning multiple awards, including the World Jury Special Prize at the Sundance Film Festival and an EMMY for Best Investigative Documentary. It was also shortlisted for an Oscar for Best Documentary Feature. It has been broadcast around the world.
For full details visit the film's web site here.